For the first time in the history of securities, it is now possible to obtain shares of a corporation directly via its website, without any cumbersome registration process or other preconditions. Thanks to blockchain technology, a share can be bought simply by sending Cryptofrancs to a smart contract that in turn dispenses shares directly into the shareholder's crypto wallet, without financial intermediaries.
"Out of the more than 600'000 companies in Switzerland, only a few hundred are publicly traded. Our vision is to change this. The Share Dispenser is an important step into this direction" Markus Hartmann, CEO of Alethena.
Already last year, fintech startup Alethena has tokenized its entire share capital on the blockchain. The corresponding holdings and all transactions are public, but anonymous, as usual with crypto assets. The names and addresses of the shareholders are kept in a traditional shareholder registry hosted by partner Ledgy.com. While the enjoyment of shareholder rights such as receiving dividends or voting in the general assembly requires a registration, the latter is not necessary for short-term trading.
"Worldwide electronic transferability is not of much use if no one ends up making use of it. We do so with our Share Dispenser, allowing visitors of our website to swap cryptocurrency for shares"
A certain level of technical know-how is still required, though. In particular, the browser-wallet MetaMask must be installed as most web-browsers cannot interact with a blockchain yet. Furthermore, a potential buyer also requires CryptoFrancs (XCHF), a cryptocurrency pegged to the Swiss Franc and issued by Swiss Crypto Token AG. The entire purchase process is documented comprehensively in an accompanying video.
In the aftermath of the hype surrounding initial coin offerings (ICOs) and the ensuing sell-off in cryptocurrency markets, current developments are pointing towards a more stable environment.
"For successful startups, the tokenization of their shares could become an interesting alternative to exits or IPOs", remarks Luzius Meisser, who has supported the project from the beginning.
Screenshot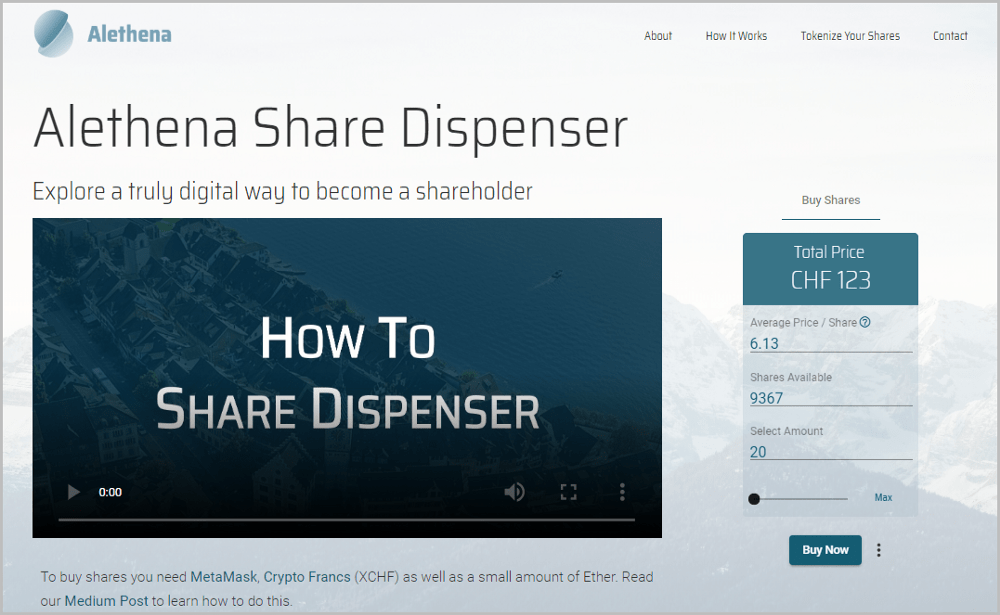 More information with respect to the Share Dispenser can be found at www.sharedispenser.ch
About Alethena
Alethena (alethena.com) is a Swiss fintech company specialising on blockchain-applications and digitalisation that offers technological solutions in the area of tokenisation of company shares and their tradability.
About Ledgy
Ledgy (ledgy.com) is a Zurich based startup offering a digital share registry with more than 100 active clients. With respect to tokenised shares, Ledgy can automatically adjust blockchain transactions in the registry, given the receiver has completed his registration.
About Lexr
Lexr (lexr.ch) is a Zurich based legal service provider that provides support for entrepreneurs and founders with smart and efficient solutions. Lexr is responsible for the legal setup of the Share Dispenser.
Contact details for inquiries
Markus Hartmann, contact@alethena.com, www.alethena.com

---